Do You Love Chocolate?
Find this article at:
go.ncsu.edu/readext?772251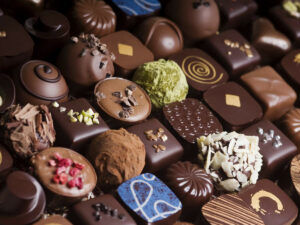 Currently grocery aisles are overflowing with Valentine's candy. This means lots of chocolate everywhere. But chocolate isn't a forbidden food.
Chocolate, in moderation, can be part of a heart healthy diet. One of the main ingredients in chocolate is cocoa, which contains a group of nutrients called flavonols.
Chocolate Benefits: Flavonols act like antioxidants in that they help to reduce the inflammation inside your body. Too much inflammation can increase your risk of heart disease and certain cancers. There's evidence to suggest flavonols in chocolate promote healthy blood circulation by reducing the risk of blood clots and relaxing the blood vessels to maintain lower blood pressure.
The Darker the Better
– Choose a chocolate candy that is at least 70% cocoa. Higher amounts of cocoa often have more benefits and less added sugar.
– Select chocolate candies with a shorter ingredients list. Extra ingredients can increase the calories and decrease the benefits you get from the chocolate.
– Another benefit to choosing dark chocolate is its longer shelf life. Dark chocolate can last up to a year in an air tight container, whereas milk chocolate only lasts a few months.
While enjoying your chocolate, remember that along with the flavonols, it still has added sugar. Men should aim for no more than 36 grams of added sugar daily, while women should aim for no more than 25 grams.
Chocolate Chip Zucchini Muffins
1/2 cup canola or vegetable oil
2 large eggs
1/2 cup granulated sugar
1/2 cup light brown sugar
2 teaspoons vanilla extract
1 1/2 cups finely shredded zucchini about 2 zucchini
1 1/2 cups all-purpose flour
1/2 cup cocoa powder
1 teaspoon baking powder
1/2 teaspoon baking soda
1/2 teaspoon salt
1 bag (12 oz) miniature chocolate chips
Heat oven to 350 degrees and place cupcake liners in a 12-cup cupcake/muffin pan. Or spray well with cooking spray.
Combine oil, eggs, sugar, brown sugar, and vanilla extract in a large mixing bowl. Mix well with a whisk until combined.
Add in shredded zucchini and mix gently with a wooden spoon or spatula.
In smaller bowl, combine flour, cocoa powder, baking soda, baking powder, and salt. Mix together with a whisk to break up any clumps.
Dump dry ingredients into the wet ingredients and mix together with a wooden spoon or spatula.
Add in the bag of mini chocolate chips and stir to combine. If wanted, reserve some mini chocolate chips to sprinkle on top of the muffins before baking. This is not necessary; it just makes them "pretty".
Fill muffin cups almost to the top. Cook for 20-25 minutes. The tops will be nice and rounded, puffed up and the when you gently press on the muffin it should spring back and not look wet.
Let cool in the muffin pan for about 5 minutes and then remove to cooling rack. I love eating one of these warm!