Winter Squash Is Arriving
Find this article at:
go.ncsu.edu/readext?737844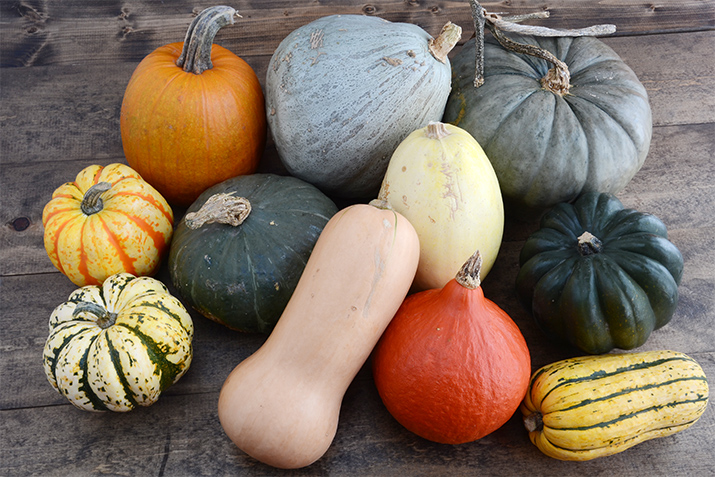 A member of the gourd family; squash is native to North and South American. This versatile vegetable is available in a variety of shapes, colors and sizes and is divided into two main categories: summer squash and winter squash. Harvested when mature, winter squash are characterized by hard, thick, inedible rinds and a distinctive flavor. Their dark-yellow to orange flesh is denser than summer squash and requires longer cooking. They are in peak season from September through March. Acorn, butternut, pumpkin, and spaghetti squash are the most popular varieties of winter squash. Use them in soups, stews, breads and desserts.
There are several varieties of winter squash.
Acorn: Acorn-shaped with ribbed, dark-green skin, this winter squash weighs 1 to 3 pounds and is about 6 inches in diameter. It has an orange flesh with a sweet flavor that is often eaten directly from the shell.
Butternut Squash: This cylindrical squash has a slightly bulbous base and beige skin. It weighs 2 to 5 pounds and has an orange-yellow flesh with a sweet, slightly nutty flavor.
Pumpkin: Actually not a squash, through a member of the gourd family, pumpkins are round with orange rinds. They range in weight from a few ounces to hundreds of pounds. Their orange flesh has a mild, sweet flavor and contains edible seeds. Smaller pumpkin varieties are used for cooking, such as Sugar Pie, Baby Bear and Cheese pumpkins.
Spaghetti Squash: Watermelon-shaped with creamy yellow rind, spaghetti squash weights 4 to 8 pounds and has pale yellow, mild-flavored flesh that separates into spaghetti-like strands when cooked. It's often served with a sauce like pasta.
When purchasing winter squash you should select firm winter squash that feel heavy for their size. Their rinds should be free of blemishes and soft or moldy spots. The hard rinds on winter squash allow them to be stored longer than summer squash. You can store them in a cool, dry, dark place for 1 to 2 months. Do not refrigerate or wrap in plastic. Larger squash keep longer than smaller squash. But once cut, winter squash pieces must be wrapped tightly in plastic wrap and refrigerate for up to 5 days.
Be sure to wash winter squash before using. Cut the squash into halves or quarters with a large knife. Scoop out and discard the seeds and stringy fibers. Peel and cut into cubes or slices for boiling, baking, or streaming. Winter squash halves may also be left intact and baked or micro-waved.
Winter squash can be served a number of ways, try some of these suggestions:
Simmer cooked, pureed winter squash with chicken broth and a touch of cream and cinnamon for a superb autumn soup.
Add a touch of brown sugar and butter with a sprinkle of chopped pecans to winter squash halves and bake for a delectable side dish.
Stir cooked cubed winter squash into seasoned rice or couscous.
Add chunks of winter squash to stews for a touch of color and sweetness.
Enrich cake, muffin, quick bread and pancake batters with cooked, pureed squash.
Stuffed hollowed-out squash halves with cooked rice or prepared stuffing mix and bake for a hearty side dish.
Butternut Squash Soup
1 tbsp olive oil
1 onion, chopped
2 butternut squash (4 lb), peeled, seeded and cut into chunks
1 clove garlic, minced
1/2 tsp ground allspice
2 cans (14-one-half oz. each) chicken broth
½ cup sour cream
Heat oil to large saucepan on medium heat. Add squash, onions and garlic; cook 5 min, or until crisp-tender, stirring occasionally. Stir in allspice; cook and stir 1 minute. Add broth. Bring to boil; cover. Simmer on low heat 15 min. or until squash is tender. Process, in small batches, in food processor until smooth. Return to saucepan, cook until heated through, stirring occasionally. Garnish with the sour cream.
Stuffed Acorn Squash
3 large acorn squash, cut in half
1/2 lb Italian sausage
1 pkg (6 oz) stuffing mix for chicken
1 cup chopped apple
1/2 cup raisins
Preheat oven to 350F. Place squash, cut sides down, on foil-lined 15 x 10 x 1-inch baking pan; cover. Bake 30 minutes. Meanwhile, remove casing from sausage. Crumble sausage into small skillet. Cook until no longer pink; drain. Prepare Stuffing as directed on package, except decrease butter to 3 tbsp. Add sausage, apple and raisins; mix lightly. Turn squash over. Spoon 3/4 cup of the stuffing mixture into each squash half; cover with foil. Bake an additional 30 minutes or until squash is tender, removing foil for at last 10 minutes of baking time.