NC Grapes Are in Season
Find this article at:
go.ncsu.edu/readext?730786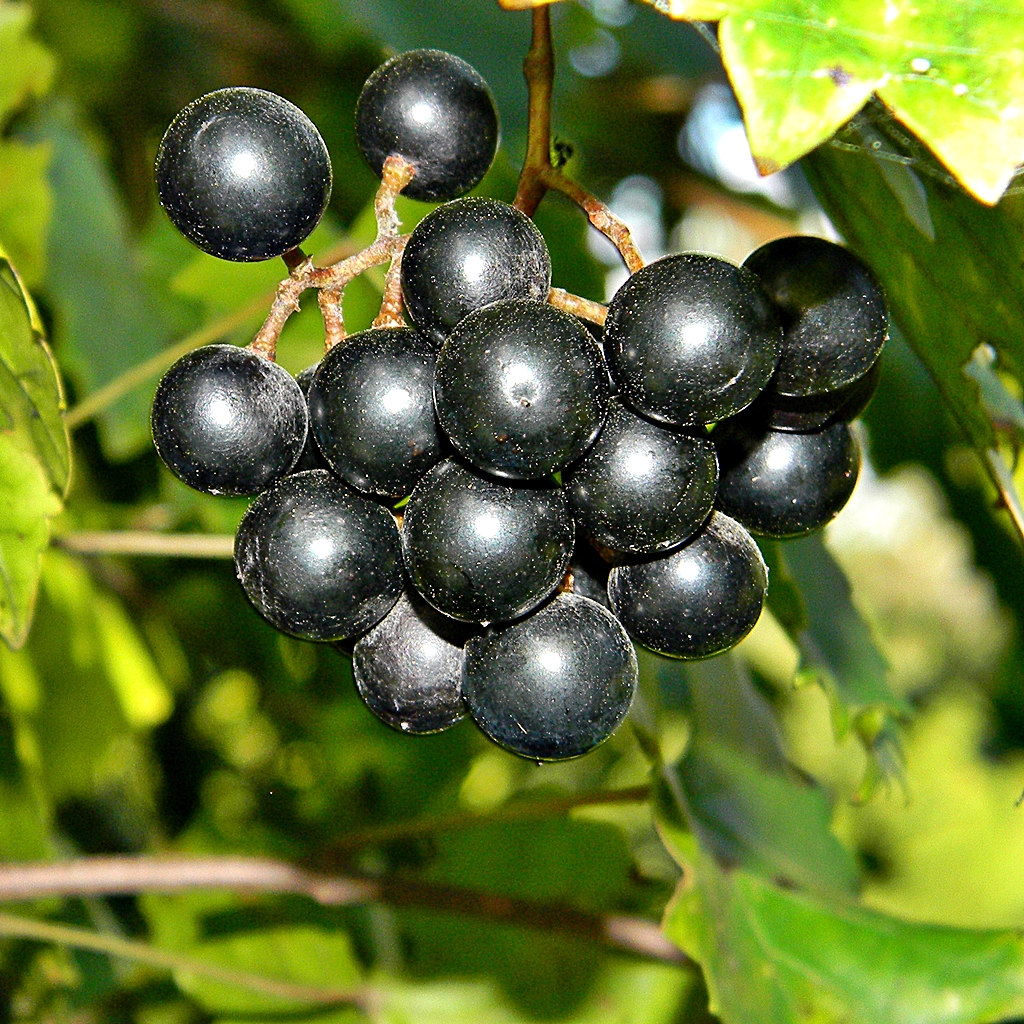 Sweet, juicy and easy to eat, grapes are classified by their use (eating or table grapes, wine-making and processing into juice, raisins and jelly) and color (white or black). White (green) grapes range in color from pale yellow-green to light green and black (red) grapes from light red to purplish-black.
Table or eating grapes taste sweeter than tart, acidic wine-making grapes. North Carolina grapes in are season now. So, when planning late summer and autumn meals, add vibrant grapes to appetizers, salads, sandwiches and desserts.
When purchasing grapes, be sure to select bunches of plump grapes that are firmly attached to their stems. A white powdery bloom on the surface indicates freshness. Red grapes should have no tinge of green color. Green grapes with a yellowish hue are the ripest and sweetest. Always void bruised, soft or moldy grapes. Be sure to remove and discard any spoiled or bruised grapes. Refrigerate, unwashed, in a seal-able plastic bag for up to 1 week.
Just before serving, thoroughly wash grapes under cold running water and pat dry with paper towels. Cut grapes into halves with a paring knife, or use kitchen scissors to snip small stemmed clusters from the larger bunch.
Try some of these serving ideas:
Arrange small clusters of grapes on a platter of assorted cheeses and crackers for a simple and delicious appetizer.
Toss grape halves into creamy tuna and chicken salads made with mayonnaise or green salads tossed with your favorite salad dressing for a touch of color and sweet flavor.
Freeze grapes for a cool and refreshing snack. Kids love them!
Perk up pitas and wraps by adding grapes to sandwich fillings.
Round out your favorite fruit salad with a handful of red and green grapes.
Top off yogurt with some grapes for a tasty snack or breakfast.
Green Grape Salad
4 pounds seedless green grapes
1 (8 ounce) package cream cheese
1 (8 ounce) container sour cream
One half cup white sugar
1 teaspoon vanilla extract
4 ounces chopped pecans
2 tablespoons brown sugar
Wash and dry grapes. In a large bowl, mix together the cream cheese, sour cream, sugar and vanilla. Add grapes and mix until evenly incorporated. Sprinkle with brown sugar and pecans, mix again and refrigerate until serving.
Concord Grape Pie
1 c. sugar
2 tbsp. flour
one-fourth tsp. salt
2 one-half tbsp. butter
1 egg, beaten
2 c. concord grapes (cut) seeded but not skinned
Combine sugar, flour and salt. Add egg and mix with grapes. Place in unbaked pie shell and dot with butter. Add top crust. Bake in hot oven at 450 degrees for 10 minutes. Reduce heat to 350 degrees for 20 minutes longer.