NC Apples — In Season!
Find this article at:
go.ncsu.edu/readext?735029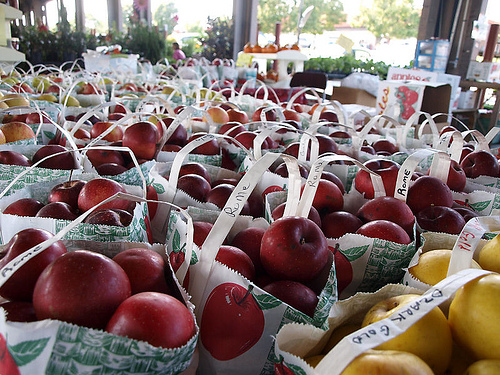 The sound of biting into a perfectly crisp apple is the sound of autumn-whether the apple is plain or coated in caramel and peanuts. For while apples are available year-round, it is the newly harvested fall crop that is the freshest and best tasting. Ranging in flavor from sweet to tart, locally grown U.S. apples are at their peak now through November. So, pick up some apples (or off a tree at an orchard) and add a touch of autumn to your salads, snacks, sandwiches, main dishes and desserts. Nutritionally apples are a good source of fiber and vitamin C.
When purchasing apple be sure to select firm apples with unbroken, well-colored skins and no bruises. Brown streaks on the skins (called scald) do not affect quality. Apples will keep in a cool, dry place for up to 1 week. For longer storage, refrigerate in a plastic bag for 4 to 6 weeks. You should always select the types of apples based on how they will be used: raw (for eating out of hand and adding to salads); cooked (for applesauce, pies and other desserts); or baked whole. All-purpose apples can be used for both eating raw and cooking. Varieties include: Braeburn, Cortland, Fuji, Gala, Golden Delicious, Granny Smith, Jonathan and McIntosh. Red Delicious apples are strictly for eating raw and Rome Beauty apples are best for baking whole.
You should always wash apples just before using. They may be eaten peeled or unpeeled. To core apples, quarter them lengthwise and use a paring knife to carefully remove the seeds and core. To prevent cut apples from turning brown by dipping them in a small amount of lemon or other citrus juice. If adding apples to a salad, the acid in the salad dressing also prevents them from browning. When baking whole apples, remove a 1/2-inch-wide horizontal strip of peel from around the center of each apple. This prevents the skin from cracking by allowing the steam to escape during baking. If stuffing the baked apple, remove the core with an apple corer.
Apples can be served a number of ways. Try some of the following serving suggestions for some new ideas for using apples.
Toss unpeeled apple chunks along with some pecans or walnuts into a green salad and top with your favorite salad dressing.
Add thin slices of apple to sandwiches-such as ham or turkey with your favorite cheese-for added flavor and crunch.
Cooked apples taste great in savory dishes with chicken, pork, cabbage, onions and potatoes.
Liven up your favorite coleslaw recipe by folding in crisp, chopped apples.
Top crackers with thin apple wedges after spreading them with peanut butter or cream cheese.
Caramel-Dipped Apples
5 apples, washed, well dried
1 pkg. (14 oz.) Caramels (about 50)
2 Tbsp. water
Insert wooden pop sticks (from bag of caramels) into stem ends of apples. Cover large plate with waxed paper; grease paper with butter.
Cook caramels and water in large saucepan on medium-low heat until caramels are completely melted, stirring constantly.
Dip apples in caramel; spoon additional caramel over apples if necessary to evenly coat apples. Let excess caramel drip off. Scrape bottoms of apples; place on prepared plate. Refrigerate 1 hour. Remove from refrigerator 15 min. before serving; let stand at room temperature to soften slightly. Refrigerate leftovers.
The Perfect Apple Pie
2 ¼ cups flour
1 tsp. salt
1 cup shortening
5 to 7 Tbsp. ice cold water
6 cups thinly sliced peeled tart apples (about 4 large apples)
3/4 cup sugar
1 Tbsp. cornstarch
1/2 tsp. ground cinnamon
1/4 tsp. ground nutmeg
1 Tbsp. lemon juice (optional)
Preheat oven to 400°F. Mix flour and salt in large bowl. Cut in shortening using a pastry blender or two knives until mixture resembles coarse crumbs.
Add water, 1 Tbsp. at a time, mixing lightly with fork until flour mixture is evenly moistened and clings together when pressed into a ball. Divide dough in half; shape each half into 1/2-inch-thick round. Wrap each dough round in plastic wrap; refrigerate 15 min.
Meanwhile, toss apples with sugar, cornstarch, cinnamon, nutmeg and lemon juice in large bowl; set aside. Place 1 dough round between two large sheets of plastic wrap; roll out dough with rolling pin to flatten slightly, working from center of dough to the edge. Turn over; continue rolling until dough round is about 2 inches larger than diameter of inverted 9-inch pie plate.
Peel off top piece of plastic wrap; invert dough into pie plate. Peel off remaining piece of plastic wrap; press dough evenly onto bottom and up side of pie plate, being careful not to stretch the dough. Trim any dough hanging over edge of pie plate with sharp knife or kitchen shears; reserve trimmings.
Fill with apple mixture; set aside. Roll out remaining dough as directed; place over filling. Trim top crust about 1/2 inch beyond edge of pie plate. Fold edge of top crust under edge of bottom crust; pinch edges together to form a ridge. Flute edge (see Tip). Cut several slits near center of pie to allow steam to escape.
Bake 45 to 50 min. or until juices form bubbles that burst slowly. Cool.
Stuffing and Chops Skillet
1-1/2 lb. boneless pork chops, one-half inch thick
1 medium onion, sliced
1 Tbsp. oil
2 medium apples, thinly sliced
1/2 cups water
1 pkg. (6 oz.)  Stuffing Mix for Pork
Cook chops and onions in hot oil in large skillet 4 min. on each side or until chops are cooked through. Transfer to plate; cover to keep warm. Add apples and water to skillet. Bring to boil. Stir in stuffing mix. Top with the chops and onions; cover. Remove from heat; let stand 5 min.