In Season: A Variety of Leafy Greens
Find this article at:
go.ncsu.edu/readext?699185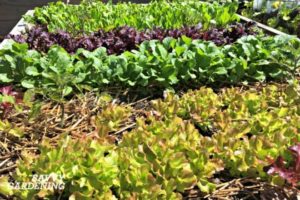 When you think salad, you think leafy greens. The foundation of any great salad, leafy greens come in all shapes and sizes. They can be light and lively or intense and spicy. They can be mixed, tossed, topped cooked, drizzled and more. It's all up to your taste and the occasion.
For all their beauty, salad greens are not just good for looks. They are also good for you. Most leafy greens are a good source of vitamins A and C.
Arugula, also known as rocket, is standard salad-bowl fare in Italy and southern France. It is increasingly popular in US restaurants and markets.
Look for tender bright green leaves.
Taste is pleasantly bitter with a slightly peppery mustard flavor.
Mix a little with other salad greens, tossing with an oil-based dressing.
Butterhead Lettuce, whose best-known varieties are Boston and Bibb lettuce, is favored for its sweet, mild flavor and delicate texture.
Look for small, round, loosely formed heads with pale green outer leaves and pale yellow inner leaves.
Taste is mildly sweet and succulent.
Add to other greens to give a lighter color and tender bite; equally delicious with creamy dressings and light vinaigrettes.
Cabbages, either green or red, are commonly available and always reliable.
Look for firm heads that are heavy for their size with crisp leaves either light green in color or a purplish red. Also try its citified cousins – Savoy and Napa – or some Asian relatives like bok choy.
Taste is pungent and slightly bitter.
Use in raw coleslaw recipes; also use shredded and tossed with other salad greens and an Italian dressing. It is also cooked in a variety of ways as well as made into sauerkraut.
Chard, also known as Swiss chard, has large, dark green leaves with red or white stalks.
Look for large, crinkly, deep green leaves. Some chard, frequently called red chard, has brilliant red stalks and veins. Other chard, also known as green chard, has wider white stalks and veins.
Leaves have a beet-like flavor; stalks have a celery-like taste.
Use a little with other greens for a color and texture contrast; great tossed with a light oil and vinegar dressing. Leaves can also be cooked like spinach.
Belgian Endive, probably the most popular of the endive family, is grown completely in the dark to prevent it from turning green.
Look for tight bunches with narrow, pointed leaves. Leaves should be tender and creamy white with just the tips and outer edges being yellow or palest green.
Taste is mildly bitter. A tip to remember "The paler the endive, the milder the flavor".
Use just a handful to dress up everyday salads; also spoon crab meat or tuna salad in the center for a pretty presentation.
Kale, a member of the cabbage family, is another green that offers a lot of nutritional value.
Look for a loosely formed head with dark green frilly leaves, which may be laced with a bluish purple or white.
Taste is mild with a delicate cabbage flavor.
Use just a small amount, dressed with a light vinaigrette, in everyday salads; also use as a garnish for tuna or egg salad.
Iceberg Lettuce is a perennial favorite that works in any salad.
Look for large, round, compact heads with tender yet firm, pale green leaves.
Taste is mild and texture is crisp and crunchy.
Use this classic green as the base for any salad; goes great with all dressings, especially creamy dressings such as Ranch, French or Thousand Island.
Leaf Lettuce is possibly the most popular type of salad green, enjoyed for its universally appealing taste and texture as well as its attractive appearance.
Look for both green leaf and red leaf lettuce with tender, slightly ruffled leaves, which varies from medium to dark green to red-tipped.
Taste is full-flavored but mild.
Use either on its own or mixed with more assertive greens; toss with a variety of dressings.
Mesclun is a stylish array of designer greens. The mixture, which got its start in restaurants, varies depending on the season and the supplier but typically consists of arugula, Frisee (a slender, spiky member of the chicory family), oak leaf lettuce, radicchio, baby greens and sometimes-edible flowers and whole herb leaves.
Look for tender, crisp leaves with no sign of wilting.
Taste depends on the mix but is usually on the bittersweet side.
Use a handful with regular greens for an interesting flavor and texture contrast.
Radicchio, the flamboyant redhead, is the Italian word for chicory, the family of greens from which it comes.
Look for small compact heads with deep red leaves and crisp white veins.
Taste is slightly bitter and peppery.
Use with other salad greens for color and excitement; also use the outer leaves as "dishes" for other ingredients. Halves can also be grilled and drizzled with balsamic vinaigrette.
Romaine is a crisp, robust green that it is just right for everyday salads yet sophisticated enough for Caesar himself.
Look for an elongated head with large, tender, medium to dark green outer leaves and pale green inner leaves with crunchy center ribs.
Taste is just slightly bitter and succulent.
Toss with Caesar dressing for a simple Caesar salad; also combine with other greens for its distinctive crunch.
Spinach is a versatile, nutritious green that has been cultivated since ancient times.
Look for tender dark green leaves which can be crinkled or smooth with a fresh, not too strong, scent.
Taste is slightly bitter.
Use raw in salads with other hearty ingredients, such as bacon or hard-boiled eggs, which stand up to its strong flavor; toss with sweet dressings and/or fruits for a pleasant contrast. It can be cooked in a number of ways.
Watercress, unlike the others, is not a garden green. It is grown in water and is usually found displayed in a container of water in the produce market.
Look for bouquet-like bunches with dark green, dime-sized leaves on 8″ to 10″ stems.
Taste is pungent and slightly peppery.
Use with other greens in salads; layer in sandwiches or cook in soups.
Packaged Greens are ready when and where you need them. They are a quick and convenient way to enjoy salads.
Look for packages of single or combination greens. Check the expiration or use-by date and make sure leaves appear fresh with no brown spots.
Use packaged combinations of greens that suggest the appropriate dressing. Pair Mediterranean blend, for example, with Italian-style dressings and Caesar blend with Caesar dressing, of course.
Supermarket Salad Bar Greens are a great way to get your greens. The supermarket has already done the selecting and chopping for you. Great for a working lunch or a light, quick dinner before you head off to your after-work activities.
Look for greens that appear fresh and tender with no brown spots or wilted leaves.
Use greens gathered at the supermarket salad bar to try out new types of leaves and lettuces as well as different dressings.