Shop Local This Holiday!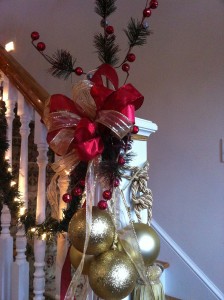 The holidays are here and if you are like so many others, you are in search of the perfect gift for those special people in your life.
We are encouraged to shop locally this holiday, in an effort to keep our dollars in Randolph County and more importantly, support our local shop owners! In this season of giving, when buying store bought gifts, please shop local first. When you buy from a local business the maximum amount of your dollars, from profit, salary and production, stay in our community.
Another way to make a difference this holiday season is by hosting food drives or making donations to the local Salvation Army, Goodwill or Christians United Outreach Center! There are many in our community who lack food this year, and a simple food drive would go a long way to re-stocking shelves so that needy families will not go without this holiday season.
If you are looking for a unique gift for your child this holiday, how about a trip to junior 4-H Camp next summer! Although the trip won't happen until July 5 – 10, 2015, you can make the investment today for a grand experience, something to look forward to next summer!
Making homemade gifts is a way to express your creative side, as well as, create a memory that can be saved for a lifetime! We don't have to spend great amounts of money to make a lasting impact on others! As a family, you could adopt a senior in our community and make their holiday more special by a short holiday visit! How well do you know your own neighbors? Maybe you could take some time to meet and greet your neighbors as a way of spreading holiday cheer!
The ways in which we model our own thoughtfulness will be reflected back upon us throughout the year! As this year winds down, begin thinking about how you can continue to make a difference in the life of your family, your neighborhood or community. Volunteer locally to make a difference. As I look to 2015, I am encouraged by the ideas we have in 4-H to organize new learning opportunities for youth and by the adult volunteers who have so much to share in our community.
If you would like to explore the opportunities in 4-H, give us a call at: Liberty 218-4000; Archdale / Trinity, 819-3000, and Asheboro, 318-6000. 4­H is open to girls and boys ages 5­19 without regard to race, color, religion, sex, national origin or disability. 4-H is a United Way Agency.
Was the information on this page helpful?
This page can also be accessed from:
go.ncsu.edu/readext?328369