Investing in Our Community
Find this article at:
go.ncsu.edu/readext?316091
Something I love about 4-H is the opportunity to work alongside other community agencies! Agencies that work together, that find common ground, that have community betterment as a focus. Randolph County 4-H has been supported by a number of community partners, all who want our most precious resource, our youth, to thrive.
The United Way of Randolph County is currently embarking on a their yearly campaign. I mention this because the United Way is one organization that pulls many agencies together, and who will solicit on our behalf, business and industry to support the many needs of children, youth and families in our community.
4-H is United Way agency. Each year we receive financial support that helps us to create educational programs; present awards and recognition for youth who have accomplished their goals; purchase curriculum designed to assist youth in learning subjects that are of interest to them.
Another community agency, our local Asheboro Randolph YMCA just held a ribbon cutting ceremony to highlight their new computer lab, created by GTECH! The GTECH After School Advantage program provides nonprofit community agencies with state-of-the-art, internet-ready computer labs.
These computer labs provide children aged 5 to 15 with a meaningful and fun learning experience in the after-school hours. According to GTECH "this initiative is meant to provide an otherwise unavailable educational experience and bridge the digital divide among at-risk children".
Randolph County 4-H has long partnered with the YMCA and will benefit from the computer lab. Our youth may schedule time to use the lab to complete their yearly 4-H project record books. We need to continue to find ways to work together, to use our resources wisely and reach out to one another, to make sure that our youth and families have all the support they need to THRIVE!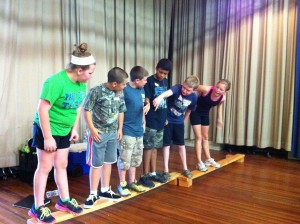 Making the best better and doing it alongside others who share our passion for excellence, education and commitment is just one more reason I am grateful for the work I do in 4-H! If you should like to learn more about 4-H give us a call at: Liberty 218-4000; Archdale / Trinity, 819-3000, and Asheboro, 318-6000.
North Carolina Sate University and North Carolina A&T State University commit themselves to positive action to secure equal opportunity regardless of race, color, religion, creed, national origin, sex, age disability, or veterans status. In addition, the two Universities welcome all persons without regard to sexual orientation. North Carolina State University, North Carolina A&T State University, U.S. Department of Agriculture, and local governments cooperating.
Persons with disabilities and persons with limited English proficiency may request accommodations to participate by contacting Barbara Swanson at 336-318-6000 or barbara_swanson@ncsu.edu or fax – 336-318-6011 or in person at the Randolph County Extension Office at least 10 days prior to the event.