Tricks for a Beautiful Lawn
Find this article at:
go.ncsu.edu/readext?300052
Summer time is here and some of you are still wondering how to make your yards as beautiful as the golf courses and commercial buildings that we see all over town. You have already aerated and reseeded your yard, and the seeds have sprouted leaving you with the fresh green coloring of spring. Now, it is time to fire up your lawn mower and put those beautiful stripes on your turf that we all admire. Three simple steps will allow you to transform your green blanket of yard into the beautiful lawn you have always wanted. When the proper equipment is used to mow at the correct height and pattern, you can be assured that your yard will rival even the classiest of golf courses.
Proper mowing height is key when attempting to encourage the thick and healthy growth that we desire. As a rule of thumb, grass should be mowed at a length in which one-third of the height is removed. For example, if you grass is six inches tall, you should only remove the top two inches. Removing more than one third of the total height can result in stunted growth and weaker stands. If your grass requires more than one-third of it's height to be removed, it is best to mow one-third of the height and then wait a few days to mow again, allowing the grass to recover in between. Hear in the Piedmont, we typically mow our fescue down to three inches and our Bermuda down to an inch of growth. These are general recommendations and your final mowing height will be based on your personal preferences.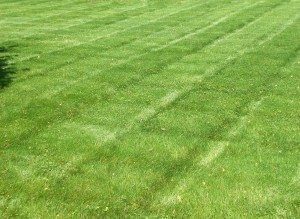 Mowing patterns are also an important way to differentiate your yard from your neighbors. We all know that grass should be mowed in straight lines, but using angled mowing patterns in relation to the road can give your yard the appearance of being larger and cleaner that it really is. Setting your stripes at a 45-degree angle to the street and then making perpendicular stripes on the second pass will leave your yard with a beautiful checkerboard pattern that will surely catch the eyes of onlookers.
One of the most important ways to make your mowing as appealing as possible is to use the right equipment for the job. There are many different types and brands of mower, each having different striping capabilities. Most commercial mowers utilize two or more blades that cut in opposite directions. These mowers also cut your grass at a slight angle, making the stripe more defined. Standard push mowers will make stripes in your yard, but they will not be as wide or defined as those made with commercial mowers. No matter what kind of mower you are using, the most important factor is the sharpness of the blades. If your blades are dull, grass blades will be missed, leaving you with an uneven cut. Sharp blades will also make cutting your lawn easier, allowing your engine to run faster with less resistance.
The last factor in making sure that your lawn is as beautiful as possible is to utilize weed eaters, stick edgers and leaf blowers to put the finishing touches on your yard. Weed eaters should be used to cut the small areas that your mower cannot reach. Stick Edgers are designed to make a small trench in between your driveway and the turf. This creates definition between the two surfaces and stops your grass from growing onto your hardscapes. Leaf blowers are used to remove the loose clippings from your street, sidewalk and patio. Though these three tools are not required to mow your lawn, but they are the real reason that professional landscapers are able to make your yard look like a million dollars. Homeowners that are attempting to maintain their own yards tend to overlook these small details, but I encourage you to try it once to see the difference a few extra minutes of edging and blowing can make on your landscape.
Here at the Randolph County Cooperative Extension, we strive to help and educate the public in whatever way we can. If you have any questions about lawn care or gardening, please feel free to contact us at the Randolph County Cooperative Extension office by phone at (336) 318-6000 or in person at 112 W. Walker Ave. here in Asheboro.