December Cattle Management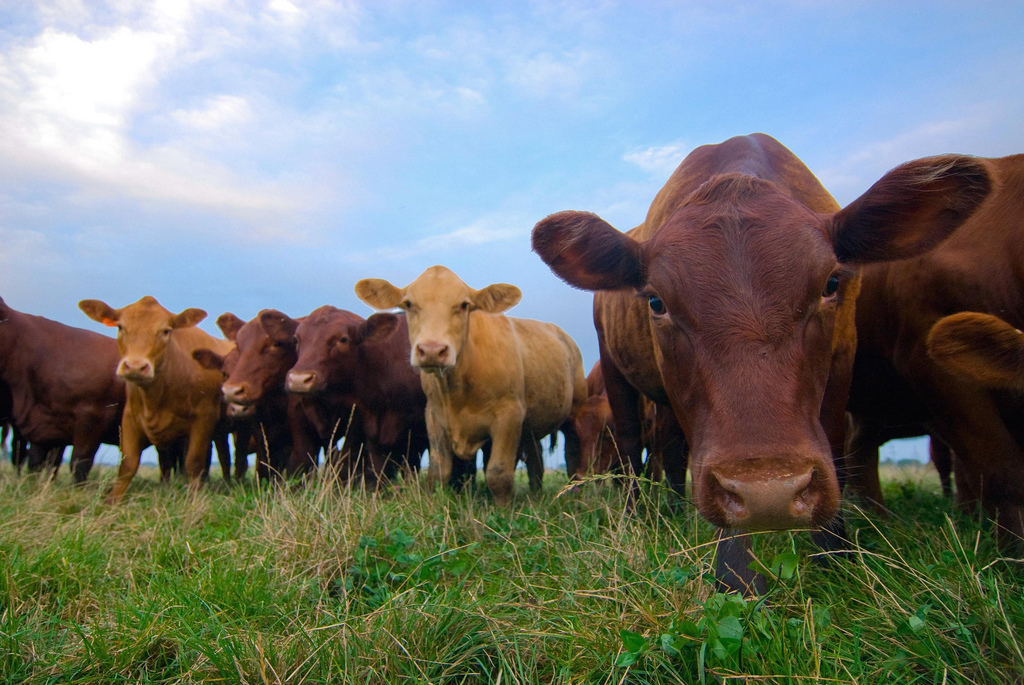 SPRING-CALVING HERD
Begin Winter Feeding.
Divide the herd into groups for winter feeding, which may include:

Weaned calves
First and second-calf heifers and thin cows
The remainder of the dry cows that are in good body condition
Herd sires
Feed the lowest quality forage to mature dry cows during early winter.

Be sure that weaned heifer calves are on "target" and being fed so that they weigh 65-70 percent of mature weight by 14 to 15 months of age.
Prepare for Calving.
Prepare a calving area and equipment:

Facilities to warm chilled calves (warming box, truck cab, heat lamp, etc.)
Calf puller and chains
Ear tags and applicator
Frozen colostrum or commercial colostrum supplement
Oral calf feeder
Iodine for calf's navel
Record Book
Calf weigh tape or scales
Check breeding dates on cows. Watch closely as due dates approach.
Arrange for enough labor to assist during the calving period.

Mature dry cow's needs are minimal if they are in the desired body condition (BCS of 5).
Keep replacement heifer calves gaining enough to reach their "target" weight (65-70 percent mature weight.) by the start of the breeding season.
FALL/EARLY WINTER-CALVING HERD
Breeding Season Begins/Calving Season In Full Swing.
Dehorn, castrate and implant and ID calves.

Cows must be fed when the pasture runs out. Cows with calves need 25 to 30 pounds of good quality hay per day or its equivalent. Supplement with grain, if needed, according to forage test to maintain a BCS of at least 5.0.
Pre-breeding working. Consult your veterinarian about vaccines and health products your herd needs. These may include:

Deworming cows
Vaccinating cows for Lepto (5-way), IBR, BVD, and Vibrio
Vaccinating calves for clostridial diseases (blackleg) and IBR-PI3-BVD-BRSV

At the beginning of breeding season, record inventory of all cows in each breeding pasture.
For an October 1 to December 30 calving season, bulls need to be with the cows from January 1 to March 20. Start breeding heifers about three weeks before the cows.
Heifers start calving in late fall calving herds. Gather and clean your calving supplies and be ready to assist with difficult births if needed and castrate bull calves.
Switch heifers to a lactation ration 10-15 days after calving.
For a high percentage of cows to rebreed early, the herd must be in moderate or better condition.
Make sure bulls are in good condition and conduct breeding soundness exams. Observe performance of bulls during breeding season. If the number of cows returning to estrus is large, try to determine the cause and consider changing bulls.

FORAGES
Continue using stockpiled tall fescue and crop residues as available.
Continue testing hay for nutrient content. Use your best hay during calving.
Begin hay feeding, minimizing waste.
Plan supplemental feeding program based on hay test results.
CONSIDERATIONS FOR ALL CATTLE
Record all cow deaths, purchases, sales and movements among pastures.
Review this year's calf crop and start plans for next year's breeding program.

Plan to attend the Piedmont Regional Beef Conference on February 27th and other educational meetings to update your knowledge of beef production.
Develop criteria for bulls to be purchased and start attending bull sales.
Adapted from "Cow Herd Management Calendar for North Carolina Producers" and the "Beef Integrated Resource Management Calendar". For a copy of this calendar, forage testing information, or for any questions related to this article, please contact Jonathan Black at the Randolph County Cooperative Extension Office at 336-318-6000
Photo: courtsey of Ryan Thompson/U.S. Department of Agriculture