So What? Health Rocks!
School is in full swing and our youth here in Randolph County are taking their learning back to the classroom. The great thing about 4-H is that we offer year round learning experiences to keep those minds sharp. The summer programs we offer are infamous for keeping young people involved and engaged while they expand their minds and sometimes their comfort zones. Now that the dog days are behind us, the Randolph County 4-H staff is moving forward to school enrichment, after school programs and continued support of our 4-H clubs. As members of the North Carolina Cooperative Extension team, learning is something we as a staff constantly work on as well. Our 2 land grant universities, A&T State University and North Carolina State University offer the Randolph County Extension Staff all kinds of learning opportunities for us to bring back to Randolph County and share with youth and adult volunteers.
In many trainings and workshops we are asked to apply the "so what" theory to our programming. Some of you may use this concept as well in some aspect of your career or home life. The idea for our purpose is to ask that very question, "So what?" when planning a program. For what reason is this information important to the audience, how could it benefit their community, or is this material relevant and enriching information for the participants. It's a great way to keep us in check when going into a classroom full of students or talking to a group of volunteers with limited time.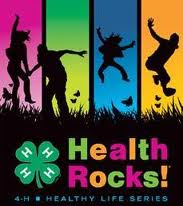 One of the 4-H programs I use with pre-teens and teenagers is a curriculum called Health Rocks. It is a great tool to teach youth about making good decisions and how to empower themselves to overcome bad decisions. When it comes to our health prevention is key, knowledge is powerful and the reality that mistakes are made is inevitable. The insights and information are great tools for young people and follow the North Carolina Standard Course of Study for health and physical education. I can tell you honestly, every time I walk into a classroom full of teenagers for the first time armed with icebreakers, balloons and what some may deem Pollyanna ideals I tend to be a little intimidated; it can be exciting too.
For those of you who wonder if all teenagers are posting pictures of themselves on Facebook with their tongues out or permanently attached to a smart phone or some other techno gadget with a scowl on their face, I want to tell you about some teens who remind me that this is not the case.
I was invited to talk about health related issues to freshmen at SWRHS once a week. One thing I've learned over time working with young people is it never turns out exactly as you plan it so you just need to ride the wave. My first day working with the first class I could see they weren't exactly chomping at the bit to hear my pearls of wisdom or play any of my "reindeer games."
I had made sure to wear waterproof clothing in case they brought their rotten fruits to throw. I could just imagine THEM saying "so what" and not for the reasons I had learned in facilitator training either. Armored wearing my most comfortable shoes (advice I always give my daughter in times of great stress) I stepped into the first lesson.
Another thing I have learned over the years working in classrooms is just how much I really want them to like me, to listen to what I have to say and to understand that I really am there for them, to learn from them and to help them achieve their goals. I know, I need to get over myself. I've heard high schools tend to bring that out in people that don't work in them everyday. The thing is, they were incredible. They listened. They asked me intelligent and well thought out questions. They did not heckle me. They did not throw anything at me. Needless to say, I was impressed. Granted I play the role of the proverbial grandparent, I get to do fun things with them, ask witty, thought-provoking questions and then give them back to their teachers. But hey, it's a win for everyone when the future leaders of our community listen and learn and exchange ideas. Kudos to Chelsea Butler, Keith Mabe, Matthew Kiser and Chris Chapman for expecting the best from their students and encouraging them to explore new ways to learn.
I am happy to report each and every class has been respectful and engaged. Would you believe they even give me insight on why they feel the way they do about particular health issues? Now this may be the part I love the most thus far, they can agree to disagree. Who does that these days? Now there's a "so what?" I can answer all day long!
North Carolina Sate University and North Carolina A&T State University commit themselves to positive action to secure equal opportunity regardless of race, color, religion, creed, national origin, sex, age disability, or veterans status. In addition, the two Universities welcome all persons without regard to sexual orientation. North Carolina State University, North Carolina A&T State University, U.S. Department of Agriculture, and local governments cooperating.
Persons with disabilities and persons with limited English proficiency may request accommodations to participate by contacting Jody Terry at 336-318-6000 or jody_terry@ncsu.edu or fax – 336-318-6011 or in person at the Randolph County Extension Office at least 10 days prior to the event.
Was the information on this page helpful?
This page can also be accessed from:
go.ncsu.edu/readext?246862