Shoo Fly Shoo!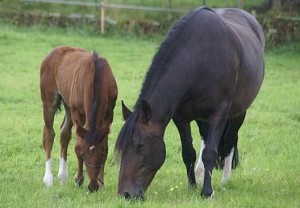 Flies are one of the most annoying aspects of having a barn and horses in the summer. They make being a horse owner and a horse dread this otherwise pleasurable time of year. Follow these simple steps to keep you and your equine friend fly free.
Rinse off any dried sweat that collects on your horse in the pasture, stall, or after exercise. Dried sweat attracts flies, making your equine friend less than comfortable.
Keep stalls and paddocks free of excess manure. A clean stable environment will be less likely a place where flies will want to congregate. Drag your pastures with a chain harrow when it is hot and sunny to break down manure piles.
Although fashionable in some disciplines, avoid roaching (shaving) your horse's mane, or cutting his tail off shorter than his hocks. Horses use their manes and tails for fly protection.
Fly masks are great for preventing eye infections and keeping flies from gathering on your horse's face. Remove it daily to check for injuries, and make sure to keep it free of dirt and mud by hosing it off (off your horse's face) regularly.
Fly sheets are also great for keeping flies off a horse's body and protecting sensitive skin from bites. Fly sheets also prevent a horse's coat from becoming sun bleached.
Maintain proper hoof care in the summer. Horses will repeatedly stomp their hooves, trying to rid themselves of flying around their cannon bone and pastures. This can lead to brittle and cracked hooves.
Use suitable barn and stable traps that can help protect your horse from flies, mosquitoes, and gnats. Mosquitos carry diseases such as West Nile Virus, so be sure your horse is vaccinated prior to fly season in the spring. Many fly repellants on the market these days also contain sunscreen. Riders should apply human grade bug spray to themselves to stay comfortable.
If you keep your horse stalled during the day, hang a fan such as a box fan. Not only will help to keep your horse cool, the extra breeze will keep gnats and fly at bay.
For more information on equine management, contact Randolph County Cooperative Extension at 336-318-6000.