Buy Local, Buy Fresh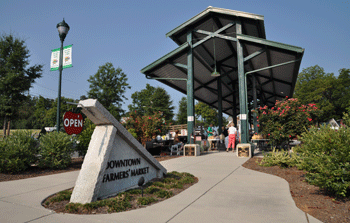 The gardens are planted and summer is fast approaching! That means fresh vegetables. Recently, I have been visiting local producers who plan to sell their produce at the local farmers market. I am excited! I love fresh vegetables.
While I love fresh vegetables, there are many reasons to buy locally produced food.
Locally produced food is fresher and more nutritious. Locally grown food is usually harvested just before you purchase it, which means that the food is at the height of freshness and therefore tastes better and is more nutritionally complete.
Nutrients are lost when food is transported long distances and sits in warehouses before it reaches you.
Locally produced food saves energy! Locally grown food does not travel great distances to get to you, in addition, it does not require long periods of storage. According to "Local Harvest" most produce in the US being placed on supermarkets shelves is being shipped an average of 1,500 miles, plus, if you consider produce imported from Mexico, Canada, South America and Asia, the distance is much more. Buying local really saves energy and money.
Locally produced food increases local economic health and encourages a self-sufficient community. Buying locally grown food keeps money in the community and supports your local farmer. Local consumers are important to farmers because they provide a direct marketing opportunity where farmers can receive fair prices for their crops. It therefore helps contribute to the health of the local economy and increases the local quality of life. In addition, it reduces the reliance on far-off food production, thus stabilizing the local food supply.
Locally produced food is an investment in the future. When farmers get paid more for their products by marketing locally, they're less likely to sell farmland for development. When you buy locally grown food, you're doing something proactive to preserve our rural environment. Therefore, by supporting local farmers today, you are helping to ensure that there will be farms in our community in the future.
One of the best ways to purchase fresh and locally grown produce is at our local Farmer's Market. We have several markets in Randolph County.
The Asheboro Farmer's Market located on Church St. in downtown Asheboro. It is open Tuesday, Thursday and Saturday from 7:00 a.m. – 1:00 p.m. through October 26th.
Ramseur is starting a Farmer's Market this year. It will be located at the Kermit Pell Water Facility, Ramseur Lake Rd., East Entrance, June 1st – Oct 31st, Thursday 1‐5 p.m., Friday 2‐7 p.m., and Saturday 7‐2 p.m.
City of Archdale will open a Farmers Market at Creekside Park on Tuesday and Saturday mornings beginning June 15th.
Randolph County Health Department:  Ira McDowell Center, 2222 South Fayetteville St., Asheboro. Every Wednesday from 11:00-1:00 during the growing season.
Department of Social Services, 1512 North Fayetteville St., Asheboro. Every Monday from 11-2:00 during the growing season.
I encourage you to look for ways to include locally produced foods in your diet! You will experience quality, nutrition, favor and a wide variety of fresh fruits and vegetables and other homegrown products with a trip to a local farmers market or roadside stand.
If you have questions, please feel free to contact the Randolph County Cooperative Extension Office at 336-318-6000.
North Carolina A&T State University commit themselves to positive action to secure equal opportunity regardless of race, color, creed, national origin, religion, sex, age, veteran status, or disability. In addition, the two Universities welcome all persons without regard to sexual orientation.