Spring Grazing Starts Now
Posted On

May 2, 2013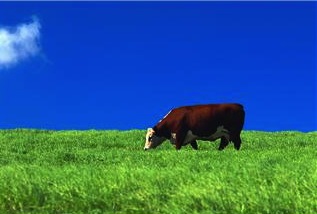 The spring grazing season is now in full swing, which means we may encounter many issues with grazing livestock. Usually we are eager to release our cattle, goats, horses, and other livestock animals onto fresh green grass that has just emerged. While this fresh grass has the most nutrients for our animals, eating the fresh forage too quickly can cause the animals stomachs to become upset, deprive the animal of certain minerals, and ruin our forage stand for the remainder of the grazing season.
We expect to see our animals really gain well in the spring and early summer while grazing, but to ensure that our animals steadily gain weight we must be sure to perform the following:  keep an abundant supply of minerals available for the livestock, gradually remove hay from the diet, and not release the animals onto the forage until the forage has reached the correct height for grazing.
Most of us do not change our mineral rations throughout the year, and let the animals consume the mineral free choice. The problem with minerals heading into spring is not the rations, but what kind of mineral we are feeding. Livestock animals especially tend to get depleted of certain minerals on fresh forage. To ensure that your animals do not suffer from grass tetany, a condition that causes cattle to have seizure like convulsions, feed a high Magnesium loose mineral source that contains at least 7% Magnesium. Consumption is often not high enough with mineral blocks to meet mineral requirements, so free choice loose minerals are really the most effective means of feeding mineral supplements if they are not mixed into a complete ration.
Along the same lines of feeding minerals, do not remove your animals completely off of hay as they begin to graze. Livestock animals can develop upset stomachs with diarrhea when first turned out onto fresh forage, which can dehydrate the animal. To avoid giving your animals upset stomach, continue to feed hay for the first month of grazing while gradually reducing the amount of hay you are feeding each week.
Perhaps the most important aspect of spring grazing is being patient. Allow your forages to reach a certain plant height or growth point before you release your animals onto pasture. For example, if you are grazing rye, fescue, oats or another cool season forage, allow the rye and fescue plants to reach 6 inches in height before you turn your animals onto the forage. If animals eat the forage below the growing point of that particular plant then regrowth will be less likely for future grazing. The minimum grazing height for most of the cool season grasses should be 3 inches to maintain a healthy forage stand.
Warm season grasses like Bermudagrass, Sorghum-Sudangrass, Pearl Millet, and Crabgrass all can provide excellent summer grazing. For Bermudagrass and Crabgrass varieties, allow the plants to reach a height of 6-8 inches before allowing the animals to graze, and then pull the animals off the pasture when the forage reaches a height of 2-3 inches. Sorghum-Sudangrass, a summer annual, has a grazing height of 15 inches. Potential for prussic acid poisoning is a concern when grazing Sorghum-Sudangrass, so avoid grazing young seedlings, young regrowth shoots, stunted growth from drought stress, and frosted plants. Pearl Millet is another summer annual that you may want to consider, which does not produce prussic acid. Pearl Millet should be planted in May and allowed to grow 14 to 24 inches before grazing. Rotational grazing should be used with one to three day durations, and only graze the millet down to 6 or 8 inch stubble. If you are practicing mob grazing be sure to remove your animals off of the forage if they have eaten down to the growing point of that plant to ensure that plant rebounds in growth for future grazing.
If we remember these keys points and practices for spring and summer grazing, and if the weather cooperates, then we are destined to have a successful grazing season. If you have any questions on spring grazing or establishing a spring or summer forage, please call our office at 336-318-6000 and we will be glad to help you.