Making Foods Healthier Can Be as Easy as 1,2,3!
According to the 2009 Behavioral Risk Factor Surveillance System, 17.1-21.6% of adults in North Carolina consume 5 or more servings of fruit and vegetables per day. That means at least 78.4% of adults are not getting the recommended servings of fruits and vegetables they need each day for a healthy lifestyle. Why is this important? This is important because fruits and vegetables may also help reduce the risk of some types of cancer and other chronic diseases, such as stroke and heart attack. They are full of disease fighting phytonutrients and provide essential vitamins and minerals, fiber, and other substances that are important for good health. Haven't you ever heard the saying "An apple a day keeps the doctor away?" Health, taste and a beautiful plate are just a few simple reasons why you should make an effort to increase the fruits and vegetables on your plate.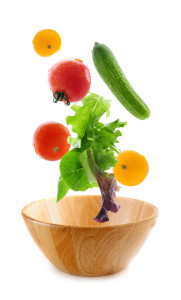 I've got lots of suggestions for way to take ordinary foods and make those foods even more nutritious and filling by increasing how many servings of fruits or vegetables they contain. Use my tips to take ordinary foods from blah to voilà! If you have canned reduced-sodium tomato, onion, potato or broth-based soup on hand add low sodium, canned and rinsed beans to the soup. You could also consider adding frozen peas and carrots or frozen chopped kale to increase the vegetable content. If you've got whole-wheat noodles sitting in the pantry, try addingquickly microwaved broccoli chunks or mixed vegetables to the noodle dish! Another great addition to pasta could be steamed red and green pepper strips or pea pods. Fresh cherry tomatoes cut in half also taste delicious! If you've got romaine or spinach leaves in your fridge, try creating a tasty salad by adding chopped red or green onions, grated carrots, sliced cucumber, snap peas, canned and rinsed beans (garbanzo beans are my favorite!), fresh trimmed green beans, canned corn, canned mandarin oranges, grapes, or even dried cranberries! One of my favorite salads has blueberries, apples, almonds and fat-free feta cheese with light balsamic vinaigrette. If you happen to have a frozen cheese or vegetable pizza in the fridge definitely add even more vegetables likered and green peppers, lightly steamed broccoli florets, chopped summer squash, fresh sliced tomatoes, sautéed mushrooms, unsweetened pineapple bits, shredded carrots, chopped green pepper, or bagged spinach. Pile the extra veggies on top and then throw it in the oven! You can make a healthy brown rice side dish even tastier by incorporating raisins, dried cranberries, cinnamon, chopped green onion, grated carrot and fresh or dried herbs! You can also try adding shredded or grated carrots to casseroles, chili, lasagna, meatloaf or soup.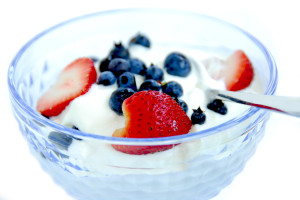 If you are aiming to start your day off with a better breakfast take my advice and add fresh or frozen berries, bananas, applesauce or apple butter to your whole grain toast, waffles or pancakes. Another thought is munching on a simple peanut butter, banana and raisin sandwich on whole wheat bread. This is an easy breakfast meal that will get you out the door and ready to take on the day! If you are having fat-free or reduced sodium cottage cheese, consider adding canned pineapple, fresh berries or grapes. This acts as a delectable protein-packed snack, breakfast or dessert! Instead of eating plain oatmeal or yogurt, go ahead and increase those fruits by adding raisins, fresh berries, banana slices or chopped apples. Be imaginative at breakfast by making fruit smoothies, vegetables omelets or egg and vegetable burritos wrapped in whole-wheat tortillas! Hopefully these tips can help guide you to a healthier and happier lifestyle. For more health tips, recipes and suggestions please call your local Randolph County Cooperative Extension Office at 336-318-6000 and ask to speak to your Family and Consumer Science Agent, Katie Rangel. I will be happy to help you!