Gardening Begins in February
The month of February contains not just Ground Hog Day, Valentine's Day, Flag Day, Presidents' Day and Chinese New Year. February begins the gardening season for piedmont North Carolina. April 12 may be the average last spring frost in Randolph County, but it's February when gardening activities begin and a delay can condemn some plants to poor growth for the entire season.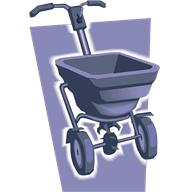 For example, February is the time for fertilizing fescue lawns with a light application of nitrogen and the main nitrogen application should be in September and October. Delaying this February application by a couple of months to April or May will make fescue more susceptible to brown patch disease. A late nitrogen application also encourages top growth but misses the optimum period for greater root growth.
Delaying the planting of woody ornamentals, fruit trees or grapes can also cause trouble. Planting these dormant plants early allows for root growth during warm days in the winter. In May, hot temperatures can stress late planted trees and vines that don't have  well established root systems. The same holds true for late planted fescue lawns without irrigation.
Applying fertilizer to pecan trees is also a February duty that is often forgotten until April or May. Research has shown a high demand for nitrogen just as the leaves emerge and enlarge and the nitrogen must be applied early to be available at that time. Nitrogen deficiency makes pecan trees more likely to bear nuts in alternate years.
Pruning of fruit trees, grapes and berries and some ornamental plants is best preform now just before growth begins. Pruning wounds callus over more quickly when pruning is completed before spring growth begins.
In the vegetable garden, February is the time for a number of chores which includes tilling the garden. When temperatures are cool the decomposition of organic matter is slower so early tilling of cover crops or weeds provides more time for the organic matter to decompose before spring planting. Another February chore is to make that early planting of Irish potatoes and English peas when the soil is dry enough to till.
For more information on the above topics search the N.C. Cooperative Extension web pages for a number of publications. Carolina Lawns a 24 page publication covering turf maintenance and establishment and may be found by searching the internet with:  "lawns, ncsu". Similarly, other subjects like fruits and berries, or vegetable gardens may be added to "NCSU" or "N.C. Cooperative Extension Service" to locate cooperative extension information sites.