Beans: Great Nutrition, Low Calorie, High Fiber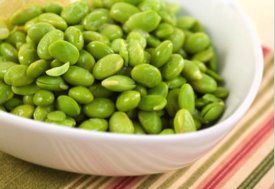 That's right Beans! Did you start the year with a goal of getting healthier or maybe losing weight? Healthy beans can help you keep those New Years goals for healthy eating and weight loss alive.
Beans are your "healthy friend". They are high in fiber and protein, rich in nutrition, low in calories and with the exception of the soybean, low in fat content, making them a perfect food for helping you lose or keep weight off.
Beans are high in fiber – Beans are one of the best sources of dietary fiber, containing both insoluble and soluble fiber. Insoluble fiber, generally thought of as "roughage" that moves quickly through the digestive system, is important in our diets because it helps promote a healthy digestive tract and can reduce the risk of some types of cancer. Soluble fiber plays a role in helping to lower blood cholesterol levels, one of the main risk factors for the development of cardiovascular disease. Beans are an extremely beneficial component in the diabetes diet because they are high in dietary fiber and low in fat and sodium. A high-fiber diet helps control diabetes and maintain healthy blood glucose levels.
Like any source of fiber, beans should be added gradually to the diet. Consumption should be increased over a four- to eight-week period, even if it's a bite or two per day, with a goal of one-half cup beans per day. It is also important to drink plenty of liquids when adding more fiber to your diet, because fluids help reduce the natural side effects of digesting fiber-rich foods. The key is to continue eating beans once the body's system is adjusted.
Beans are high in nutrition:  Besides fiber, beans are rich in protein, potassium and folic acid. Beans also have an abundance of healthy carbohydrates. Here is a closer look at these nutrients.
Protein – Beans are an excellent, non-fat source of protein. Just one cup of beans provides as much as 16 grams of protein. Adults generally need to eat between 50-60 grams of protein a day. The body converts this protein into amino acids which make up and repair muscle and bone tissue. Protein also fights infections, helps heal wounds and regulates enzymes and hormones.
Potassium – Beans contain an abundance of potassium, which may help reduce your risk of high blood pressure and stroke. Many dry beans contain a good source of potassium naturally. Just one-half cup of cooked dry beans contains as much as 480 mg of potassium. Plus, dry-packaged beans are naturally low in sodium, with no more than 5 mg of sodium in a one-half cup serving.
Folate – Our bodies do not produce folate, an important B vitamin that provides many health benefits, so it is important to get it from the foods we eat. Foods containing folate include dry beans, leafy green vegetables, fruit and fruit juices. Of all these foods, dry beans are the best source of folate. Eating one cup of cooked dry beans provides, on average, 264 mcg of folate, which can help most Americans reach their daily recommended intake. Folate protects against heart disease and may help reduce the risk of several types of cancer.
Beans are low in calories and fat content.  People who want to lose weight and keep it off tend to eat a healthy, moderately low-fat (25-30% of calories) high fiber diet that is low in calories. Beans are low in calories and with the exception of soybeans, are low in fat content.
Beans can be bought in many forms; dried, canned, and fresh. Uncooked dry-packaged beans should be stored in a tightly sealed container in a cool, dry area. Dry-packaged beans will lose moisture and may require longer cooking times, if kept for more than 12 months, however, their nutrient value is not lost with age.
Below are some great bean recipes taken from Cooperative Extension Educational Program materials that can help you keep your New Year goals!
Confetti Bean Salsa
1 – 15 oz. can of black or red beans
1- 11 oz can of whole corn
1 cup of salsa
Baked pita chips or crackers (optional)
A few drops of hot sauce, chopped cilantro or chopped green peppers is optional.
Drain and rinse black/red beans and corn. Combine beans, corn and salsa in a medium mixing bowl. Mix well. Serve as a side salad or a dip. Makes 6, ½ cup servings. 100 calories per serving.
Crock Pot of Low-fat Turkey Chili
1 pound of lean ground turkey
2- 10.75 cans of low-sodium tomato soup
2- 15 oz. cans of kidney beans drained
1- 15 oz. can black beans drained
1 large onion chopped
2tablespoons chili powder
1 teaspoon of red pepper flakes
1 ½ teaspoons of garlic powder
1  ½ teaspoons of ground cumin
1 dash of black pepper
1 dash of allspice
2 Tablespoons of grated semi-sweet chocolate or finely chopped morsels
1 ½ teaspoons of cinnamon
Salt to taste
Brown turkey in a skillet. Drain well. Drain beans well in colander. In a crock pot, mix the cooked turkey, tomato soup, kidney beans, black beans, and onions. Season with chili powder, red pepper flakes, garlic powder, cumin, black pepper, allspice, grated chocolate, cinnamon and salt. Cover and cook on low for 8 hours or on high for 4 hours. Makes 6 servings at 280 calories per serving.