What's In Season? Bell Peppers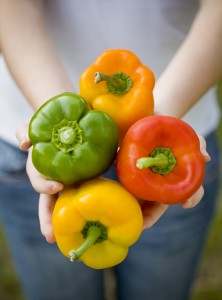 Now is the time to broaden your pepper horizon! Bell or sweet peppers are a fruit that is in the same family as tomatoes, potatoes, and eggplant. At their peak in late summer and early fall, bell peppers are available in a rainbow of colors. They have a sweet, mild flavor and tend to be crisp and juicy! They truly can be a great addition to any meal. Bell peppers can be stuffed and baked, grilled, roasted, stir-fried, or served in salads, stews, and soups. You can also freeze, dry, and can peppers. For safe, government tested recipes on freezing, drying and canning peppers, contact the Randolph County Extension office at 336-318-6000. Red peppers are an excellent source of vitamins A and C, and green peppers are an excellent source of vitamin C. Green peppers, the most common and least expensive variety of bell pepper, are picked before they ripen and have a slightly sharp flavor.
When buying and storing, choose peppers that feel heavy for their size and have glossy, smooth skin. When shopping for peppers to stuff, pick ones that are uniform in size and shape for even cooking. It also helps to purchase peppers that are round or block shaped for stuffing. Refrigerate them in a ventilated bag in the crisper, up to 5 days. Avoid peppers that are shriveled or have soft spots. It will be pretty obvious if a pepper is going bad or has gone bad! If you slice peppers for a salad and have leftovers, wrap the cut up peppers in plastic wrap and refrigerate for one to two days. It is also important to note that red, yellow, and other colored peppers are slightly more perishable than green peppers. Rinse bell peppers under cold running water just before using.
To chop or slice, stand the pepper on its end on a cutting board. Cut down three or four times to form vertical slices. Discard the stem, core, and seeds. Remove the white veins or membranes. Cut the slices into strips or chop as desired. To cut the pepper into rings or prepare for stuffing, make a circular cut around the top of the pepper with a paring knife. Pull out and discard the stem, core, and seeds. Carefully cut out the membrane and rinse with water to remove any seeds. Slice crosswise to form rings or leave intact for stuffing. Roasting peppers is another great way to prepare them. Roasting peppers gives them an intensely sweet, smoky flavor. To roast peppers, arrange whole peppers on a foil-lined baking sheet. Broil 2 to 4 inches from heat source until blackened on all sides, turning with tongs as needed. Wrap peppers in foil from pan and place in a plastic bag to steam and loosen skins. When cool enough to handle, peel off and discard blackened skins with a paring knife. Remove and discard stems, cores, and seeds. Slice and use in sandwiches, salads, dips, spreads, pizza toppings, and pasta dishes. Hummus and ranch tend to be favorites for dipping pepper slices!
Some easy serving suggestions include:
-Cut peppers into strips and serve with your favorite dip as an appetizer.
–Toss cut-up peppers into stir-fries, salads, chili, soups, and stews.
–Stuff hollowed-out bell peppers with cooked rice, pasta, or other grains and bake for a hearty entrée.
–Serve a low-fat dip in a hollowed-out bell pepper for a unique, edible bowl.
–Top pizzas with sliced or diced bell peppers, either raw or roasted.
–Add chopped or sliced peppers to pita pockets and wraps for great color and crunch.
–Stir chopped red, yellow, or orange peppers into fruit or vegetable salsas for a touch of color and sweetness.
Katie Rangel, Extension Agent, FCS