Chilly Weather Means Changes for Horses Too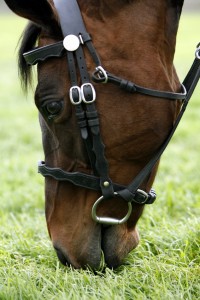 Fall is officially upon us and we are experiencing drastic changes in temperatures from daytime to night. You might have noticed that your equine friends are putting on their own winter coats in preparation for the cooler months that lay ahead.
Many people have the misconception that horses grow winter coats as soon as the weather gets cooler because they are cold. It is not the cooler temperatures that are causing your horse's hair to grow; it is the change in daylight, also known as a decrease in photoperiod. As the days get shorter, the horse's natural response to the decrease in daylight is to begin to grow a longer, denser coat. This is an evolutionary response since shorter days correspond with a decrease in temperature.
The typical horse owners response when the first chill arrives in the air is to put a blanket a their horse. The greatest danger that occurs during the wide range of temperatures we experience during the fall and early winter is a horse that becomes overheated in its blanket during the day, which in turn can lead to illness.
When deciding whether or not to blanket your horse, one must consider the horse's age, body condition, use, and access to shelter. A healthy, mature horse that naturally grows a winter coat generally will not need a blanket unless conditions are extreme. Usually, it is necessary to only blanket horses that are very old, young, without shelter, sick, or not accustomed to colder climates. However, each horse is unique and its situation must be examined to determine the best care program for the winter months.
Some horse owners will use lights to prevent their horses, particularly show horses, from growing a winter coat. A study by Texas A&M found that horses who are exposed to extended amounts of artificial lights while housed in a stall – 16 hours of continuous light per day – were able to maintain summer length coats, with normal grooming. However, when temperatures drop below 55°F, these horses may be more comfortable in a stable or turnout blanket. The same holds true for show horses that are body clipped.
Nutritional requirement change in fall and winter as well. In colder weather, a horse's calories requirement increases, and can be satisfied through the increase of fiber (hay). Horses also naturally limit their intake of water when it is cold. This can often lead to dehydration and colic. To prevent these issues, horse owners can add warm water to pelleted feeds. Water tub heaters can be used to prevent water from freezing and thus make it more palatable for horses to consume. Additionally, mineral and salt supplements should be provided to encourage water absorption.
For more information on winter care for your horse, please contact Barbara Linder at Randolph County Cooperative Extension at 336-318-6000.
– Barbara W. Linder, FCS/Ag-Equine/4-H Agent