Perfect Timing for Perfect Lawns
September to November is the best time for maintenance to help your fescue lawn recover from the hot dry periods of this past summer. Fescue grass is the most common grass used in the lawns in Randolph County. It greens up earlier in the spring and remains green longer into the winter than many warm season grasses. But, being classified as a cool season grass means it grows best in cool temperatures and requires adequate moisture. Warm season grasses, as you would expect from the name, grow best with warmer temperatures and are better adapted to drought periods.
A report from the N.C. State University Turf Council in 2005 reported the ideal soil temperatures at 4 inches deep for optimum fescue root growth are between 50 and 65 degrees Fahrenheit. Root growth slows as temperatures drop below 50 and stop growing at 33. Seeding, coring, and fertilizing should be arranged to take advantage of this optimum root growth period to get the most bang for your buck.
General recommendations are to use a complete fertilizer with a ratio of nitrogen, phosphorus, and potassium at 3-1-2 or 4-1-2, and to apply one pound of actual nitrogen per 1000 square feet in September and another pound per 1000 square feet in November. Many homeowners make only one fall application of 10-10-10 and have good results. One important point is to apply most of the nitrogen in this fall period and only a light application in February unless
irrigation is used. The February application recommended is just one pound of actual nitrogen per 1000 square feet. Late spring applications of nitrogen and heavy application tend to result in greater difficulty with the fungus disease "brown patch".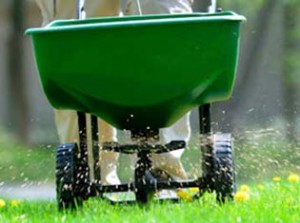 Seeding rates for new lawns are 5 to 7 pounds of fescue seed per 1000 square feet and over-seeding seed rate are 3 to 4 pounds per 1000 square feet. Over-seeding should be preceded with coring or working to soil and rolling after seeding to improve seed to soil contact.
For more information on turf grasses and maintenance recommended for North Carolina — search online for "Carolina Lawns" from the N.C. Cooperative Extension Service.
– Roger Galloway, Randolph County Extension